NEW DELHI: From being criticised for his 'not up to the mark' wicket-keeping skills to a finisher who has become the toast of the nation, Rishabh Pant's cricketing journey became one of the most interesting stories on India's very successful tour of Australia.
The way Pant played his two series defining knocks of 97 and 89* made many experts say that maybe the team management should look at playing him in Tests as a pure batsman. There is always an immediate tendency to judge a wicket-keeper batsman based on both skills. Which is why it's not easy playing that role for an international team. But in Pant's case, though he still has a lot of work to do to become one of the best behind the stumps, his exploits with the bat in front of the stumps cannot and should not be ignored.
For now though, Pant the wicket-keeper batsman will be on top of the selectors' minds for a long time.
Former India wicketkeeper Kiran More feels Pant's inclusion in the Test team gives the side more balance.
"There is no doubt about it. Pant is a very good option for us. I have a lot of regard for Saha. He is a class wicketkeeper. But if you look at the balance in the team, I think Rishabh gives you a perfect balance. If you play him, you can include one more player in the team, maybe a bowler. He is also a left-hander so it gives you an added advantage," More told Timesofindia.com in an exclusive interview.
Pant was under immense pressure after getting the nod ahead of India's first-choice Test wicket-keeper Saha who was dropped after India's Adelaide debacle.
But the way Pant came out and played counter-attacking knocks in Sydney and Brisbane after being pushed up the order made even the critics sit up and say that his brand of batting can be a great thing for the team, especially in trying circumstances when the opposition is on top.
The 23 year old played a possibly career defining knock of 89* to take India to a very stiff target of 328 in the Brisbane Test. He also finished the Test series as India's highest scorer.
03:36After historic win in Brisbane, Indian cricket team reaches Delhi In three matches (5 innings), Pant scored 274 runs at an average of 68.50. His strike-rate 69.90, in the series, was what made India hit back hard in pressure situations and kept the scoreboard ticking.
If he is played as a pure batsman his confidence will grow and he can back himself more and more to come good with the bat for the team, without having the added baggage of worrying about his keeping. But for that the playing XI has to be worked out such that a player who can keep is also accommodated.
In limited overs cricket the extremely talented KL Rahul has proved that he can handle the dual role of wicket-keeper batsman and he is likely to continue as first choice keeper in the shorter formats. Can Pant play as a pure batsman here too then?
For now, let's not forget that he is only 23 years of age. The team management, selectors, BCCI top brass, senior players, coaches everyone will have a role in ensuring that the best version of Rishabh Pant goes out onto the cricket field.
"Rishabh is very young and the expectations are huge. I always believed in him and his talent. He is a guy who can win matches for you single-handedly. That's what he showed. He is a special talent and always ready to deliver. You don't get players like Pant. You have to believe in this and give (him) time. It is a process and it will take time," More further told TimesofIndia.com.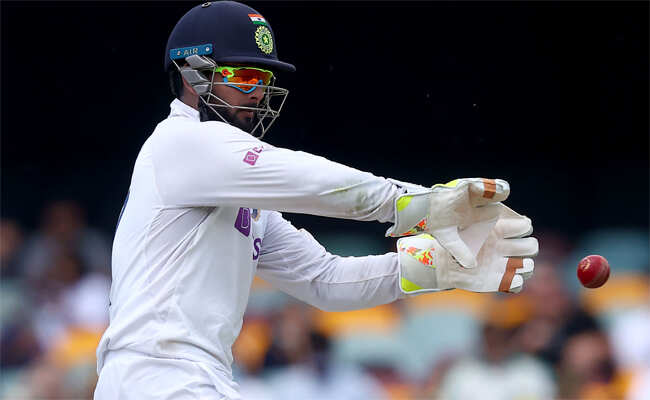 Rishabh Pant (AFP Photo)
THE SAHA VS PANT DEBATE
More also talked about the Saha vs Pant debate when it comes to keeping skills. There is no doubt that Saha's keeping skills are currently superior.
"People have been comparing his wicketkeeping skills with Wriddhiman Saha. Saha is 36 and has experience. You need to see the age difference. People came forward and criticised him (Pant) that he is not keeping well and not scoring runs. There was a lot of pressure on him. Everyone makes mistakes at this stage of life. Pant also did and learned from those. For me, he has been outstanding. When Rishabh bats, the opposition gets scared. He also scored a century in India's series win against Australia on the last tour," More, who played 49 Tests and 94 ODIs for India said.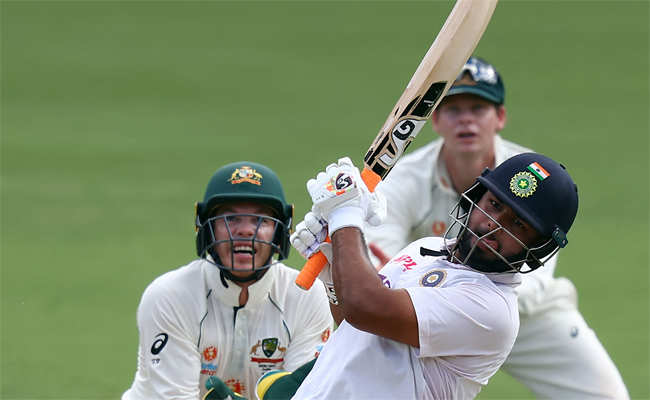 (AFP Photo)
MATURING WITH AGE
After hitting the winning runs at the Gabba, Pant looked up at the heavens and said a silent prayer. He knew he had done the job for his team.
The one thing that stood out in Brisbane when Pant was batting was that though he once in a while went for an outrageous shot, it was with a lot of self belief. And he almost immediately told himself that he needs to be patient and take the team home. Remember in the Sydney Test Pant and Pujara took the team from 102/3 to 250/4. India were chasing 407 and Pant tried to go for yet another big one off Nathan Lyon and fell for 97. In Brisbane, it was clear that he had learnt from that dismissal in Sydney.
Pant seems to definitely be maturing with both age and experience. Former India cricketer Wasim Jaffer echoed that sentiment.
"He has really played well with the bat. He is a young and dynamic cricketer and has to go a long way. He has done an amazing job in Australia. The team management, support staff, and of course the captain have given him chances and he has proved himself. You always learn with time and age and Pant is doing the same," Jaffer told TimesofIndia.com
Pant's childhood coach Tarak Sinha is understandably a very proud man. After all his ward has gone from back-up keeper to becoming the toast of the nation.
"Indian cricket and the management have been trying to find Dhoni's replacement since his retirement. And Pant has proved that he is an apt replacement for Dhoni. Rahane and Shastri have shown trust in him. They know how talented Pant is. He is young and will go a long way," Sinha told TimesofIndia.com.
"He (Pant) loves to score against Australia. He has told me many times that he loves to hit Australian bowlers. This was a much-needed and important innings for him. The way he has guided India to a win is commendable. I am so proud of him," Sinha signed off.