Diljit Dosanjh
has now responded to
Kangana Ranaut
after she slammed him for holidaying abroad while instigating farmers to protest on the streets. Diljit tweeted, "Mainu Eh SAMJH Ni Aundi ke Enu Kisan'an Ton Ki Prob. aa? Madam Ji Sara PUNJAB HEE KISAN'AN DE NAAL AA.. Tusi
Twitter
te Bhulekhe Ch Zindagi Jee Rahe Hon… TERI TAN KOI GAL V NI KAR RIHA… Akhey "SADDI NA BULAI MAI LAADEY DI TAEE"
OH HISAAB TERA AA…"
Check out the tweet here:
To which Kangana quickly replied, "वक्त बताएगा दोस्त कौन किसानों के हक़ के लिए लड़ा और कौन उनके ख़िलाफ़ … सौ झूठ एक सच को नहीं छुपा सकते, और जिसको सच्चे दिल से चाहो वो तुम्हें कभी नफ़रत नहीं कर सकता, तुझे क्या लगता है तेरे कहने से पंजाब मेरे ख़िलाफ़ हो जाएगा? हा हा इतने बड़े बड़े सपने मत देख तेरा दिल टूटेगा"
Take a look:
Meanwhile, earlier, calling Diljit a 'local krantikari', Kangana tweeted, "Wah brother!! Desh mein aag lagake kisanon ko sadak le baitha ke local karantikaris videsh mein thand ka maza le rahe hain, wah!!! Isko kehte hain local kranti… (After instigating the people, making the farmers sit on the streets, local revolutionary is enjoying the chilly winter abroad. This is what I mean when I say 'local revolutionary'."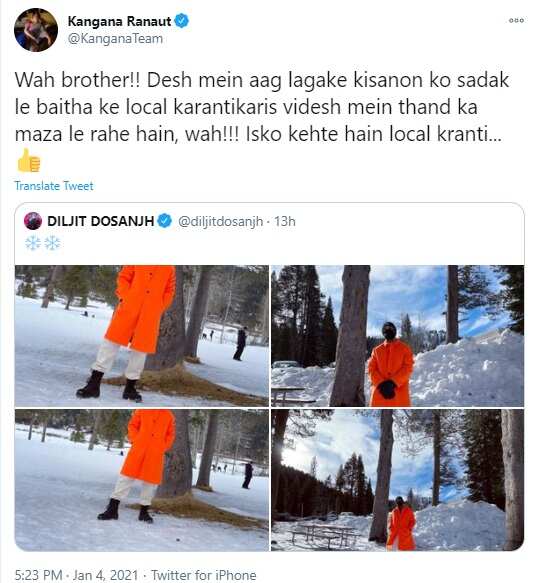 Back in 2020, Kangana Ranaut and Diljit Dosanjh had engaged in a heated war of words on Twitter as the duo voiced their opinions about the farmers' protest in the capital.