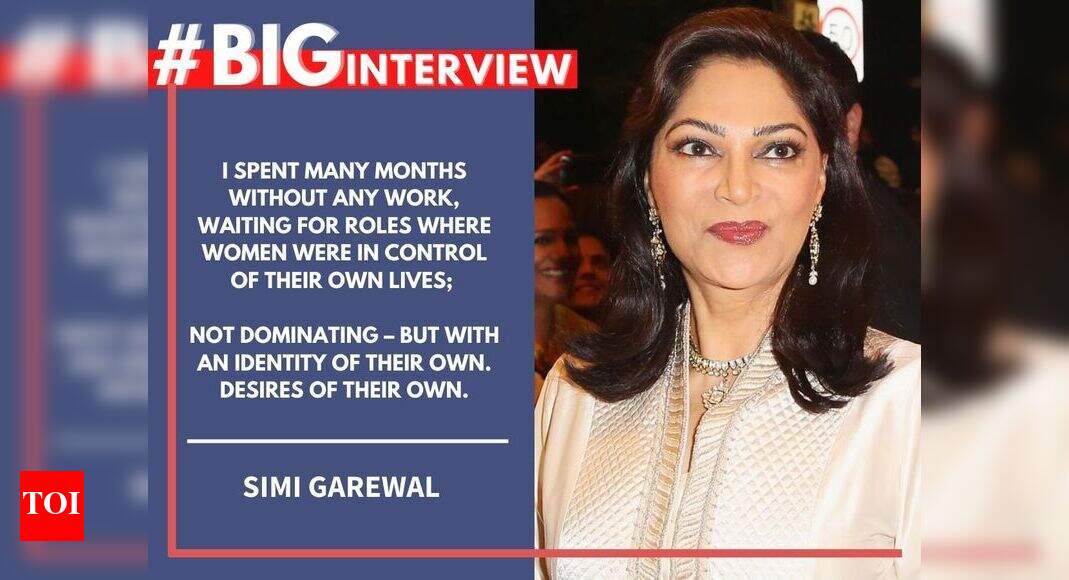 Raj Kapoor's magnum opus and one of the most celebrated films of Indian cinema – '
Mera Naam Joker
' completed 50 years on December 18. The 1970 release had
Simi Garewal
in an important role as young
Raj Kapoor
's (played by Rishi Kapoor) school teacher Mary. 'Mera Naam Joker' is film special to Simi's heart for she worked in the same project with the iconic father-son duo of Raj and
Rishi Kapoor
.
In this weeks #BigInterview Simi Garewal shares her memories of making 'Mera Naam Joker' and also talks about her experience of working with Raj Kapoor and later Rishi Kapoor in another iconic film – Karz. Here are excerpts from our chat.
'Mera Naam Joker' completes 50 years. What are your memories of the film?

Some of the happiest memories of my career! I loved each day, each shot of being Mary. I loved the meticulous care Raj-ji took in composing each frame, each dialogue. He included me in the creation of Mary. I designed all my own clothes and for some scenes Raj-ji would ask me to compose my own dialogue. One example, when Chintu hands me over the joker doll at the station and says, "
Yeh main hoon. Isse apne paas rakhiye."

Raj-ji said, "I'm stuck here. What would you say to the boy here?" And he gave me options.

I replied, "I'd just say '
bohut payara hai – tumharitareh". And that's how he kept it.
Your career really took off with the film by showman Raj Kapoor, where you played the role of Mary. She was said to be based on a real-life character in Kapoor Saab's life, who he had a crush on as a teenager.
I remember Raj-ji told me that he had a huge crush on an Anglo-India teacher when he was studying at Col Brown's school. And then later he had a crush on a girl called Damayanti in Shanti Niketan. She became Damayanti Sahni when she married Balraj Sahni. So, Mary was a combination of both of them.
How was Raj Kapoor as a director? Was he a hard taskmaster or did he let his actors be?
Raj-ji had no greater passion in his life than his films. So, he put everything, and more, into the making. Nothing else that was happening in the outside world mattered to him. I won't call him a hard taskmaster, but he was entirely focussed while directing. No kidding around, no small chat. In my case he mostly let me be 'me' in my scenes. It was after the schedule was completed that Raj-ji would pamper the entire crew; he'd shower them with immense love, which I believe was a manifestation of his gratitude for a schedule done well. I remember when we stopped at Kalka station on our way back from Simla – he went into the station kitchen and cooked eggs for the crew (and also other waiting travellers!). 'Eggs Monte Carlo' he called them! And he cooked, served and fed them to us all personally. On reaching Delhi early morning, hardly were we ensconced in our hotel – when he arrived with "
poori-aloo direct from Chandni Chowk. Garama garam hain – abhiabhi khao"! And he'd stand over us, looking on with eager anticipation as we ate the delicious morsels!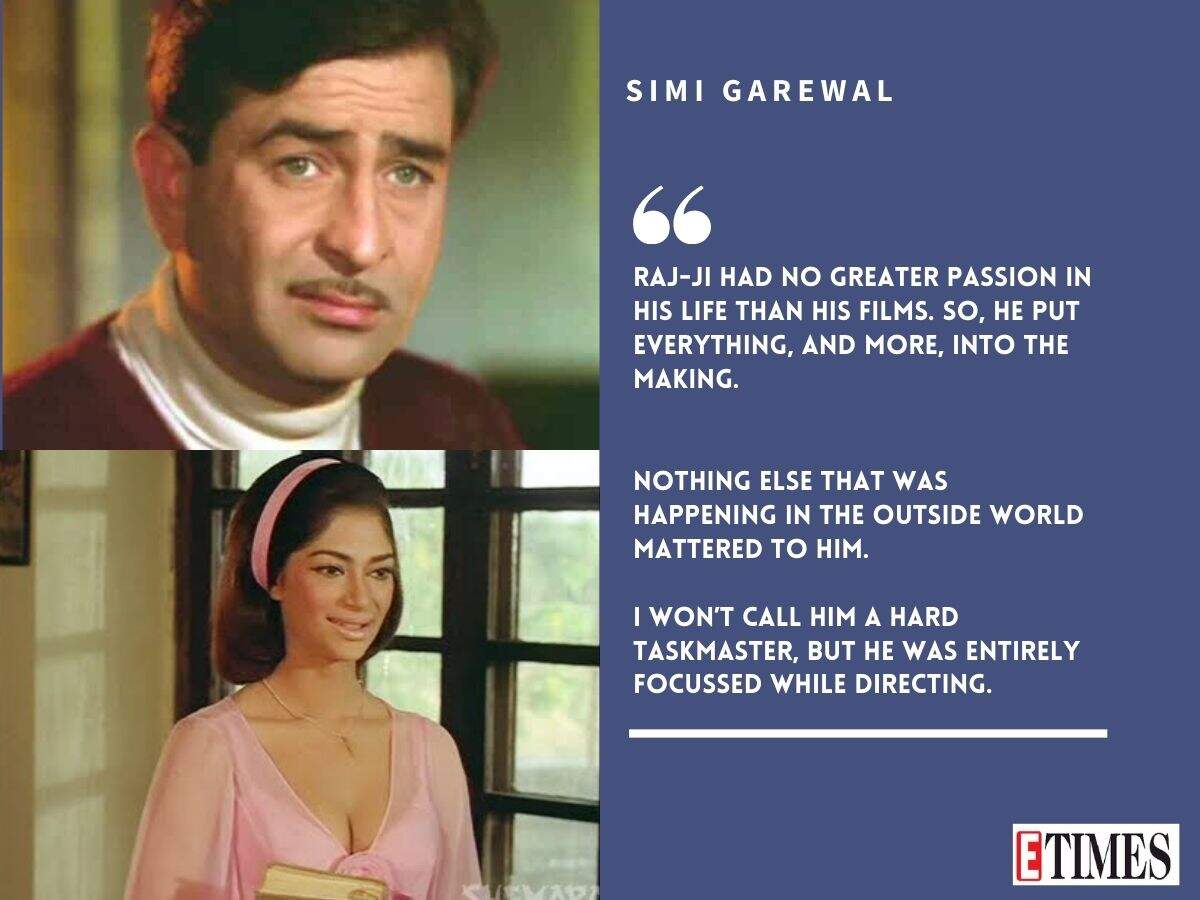 How was it like to work with the teenage and chubby Rishi Kapoor in Mera Naam Joker. He went on to win the National award for the role. Did you ever think he would also go on to be one of the most successful romantic star-actor of the 70s and 80s?
Chintu was a darling! I used to meet the family quite often even before MNJ so I knew Chintu quite well even before we started filming. He used to call me his 'Guru-ine' – combi of guru (teacher) & heroine!

He would do sweet things to please me. I remember when we were going to the Calcutta airport on our way back from Darjeeling. I happened to mention to my sister that I wanted to buy a particular book. At the security gate Chintu arrived puffing and panting and handed me that book!
'How did you get this Chintu? Did you have the money?'
He shook his head.

"You swiped it didn't you?!'

He gave a sheepish grin.

"Come on. We're going back to the shop. You must give it back!"

I stood outside while he went in and returned the book. I saw him talking as he returned it and the next thing I saw was the shop owner was embracing Chintu!

We would play games and word games – which we continued playing through all the years. Even now when I find a new word game in the Play Store – my first thought is "I must share it with Chintu' till I realize my lifelong friend has gone…

I always knew Chintu would be a success, primarily because he was very determined. And after Bobby – there was no doubt in anyone's mind!
Was Raj saablenient with him or did he treat him just like any other actor in the film?
Raj-ji was extremely strict with Chintu. I don't think I ever heard him say a soft word or a 'well done' to him. And Chintu was terrified of his Dad! He'd keep a safe distance from him. When Raj-ji was around you could never find Chintu! I think he was tougher with Chintu than with any other actor in the film.
You went on to work with Rishi Kapoor in Karz in which you played a negative role – the actor here was out to avenge his murder in a previous lifetime, completely opposite to the realistic, yet romantic track in Mera Naam Joker. What was the reunion like – as people and as actors?
Chintu had changed a lot by the time we did 'Kabhi Kabhi – and'Karz'. He was a star now. The change in him really disturbed me. When I had a Rendezvous with him and Neetu in Melbourne, it was the first time I confronted him about it.
https://www.youtube.com/watch?v=NV7H9WZVDog
I remember saying 'I adored you during Mera Naam Joker you were so much fun, and funny… but in 'Karz' I felt I don't know Chintu anymore. What happened?'

He replied instantly, "I got polluted". And went on to clearly explain what success did to him at that time…After that conversation, we happily reverted to the way we always were…
'Mera Naam Joker' is a cult film today, but it failed to impress at the box office in India. What do you think went against the film — length, the theme or the circus?
Without a doubt, it was the length of the film. I think it was like 4 ½ hours – with 2 intervals!! Who could spend half a day watching a film? Children would get restless and agitated and mothers were distraught. Everyone, even the distributors, told Raj-ji to please shorten it, but he felt it would work. He cut quite a lot afterwards – but it was too late. But yes – now 'Mera Naam Joker' has become a cult film and people appreciate it a lot.
'Mera Naam Joker' in a way was a multistarrer in a way – you were paired opposite Manoj Kumar and had rishi Kapoor in love with her… there was Dharmendra and then, of course, Raj Saab himself…
Would you believe it – it was my mother who told Raj-ji that he should take stars for all the roles!

'But they won't agree,' he kept saying.

She gently urged him to try, "They won't refuse you – you'll see".

And that's how it happened – the first multi-starrer!
You have done some landmark films, where the female roles would be considered bold for their time – Siddhartha opposite Shashi Kapoor, where she went nude.. to the teacher of 'Mera Naam Joker' and the gold-digger of 'Karz'… You are strongly associated with these films. How do you view it to female characterisations today…
Well today, finally, female characterizations have become strong and bold. But at that time they were the opposite! They were either subservient or silly college girls for mere decoration. Today female actors are seen in all kinds of liberated avatars – but it took a long time coming.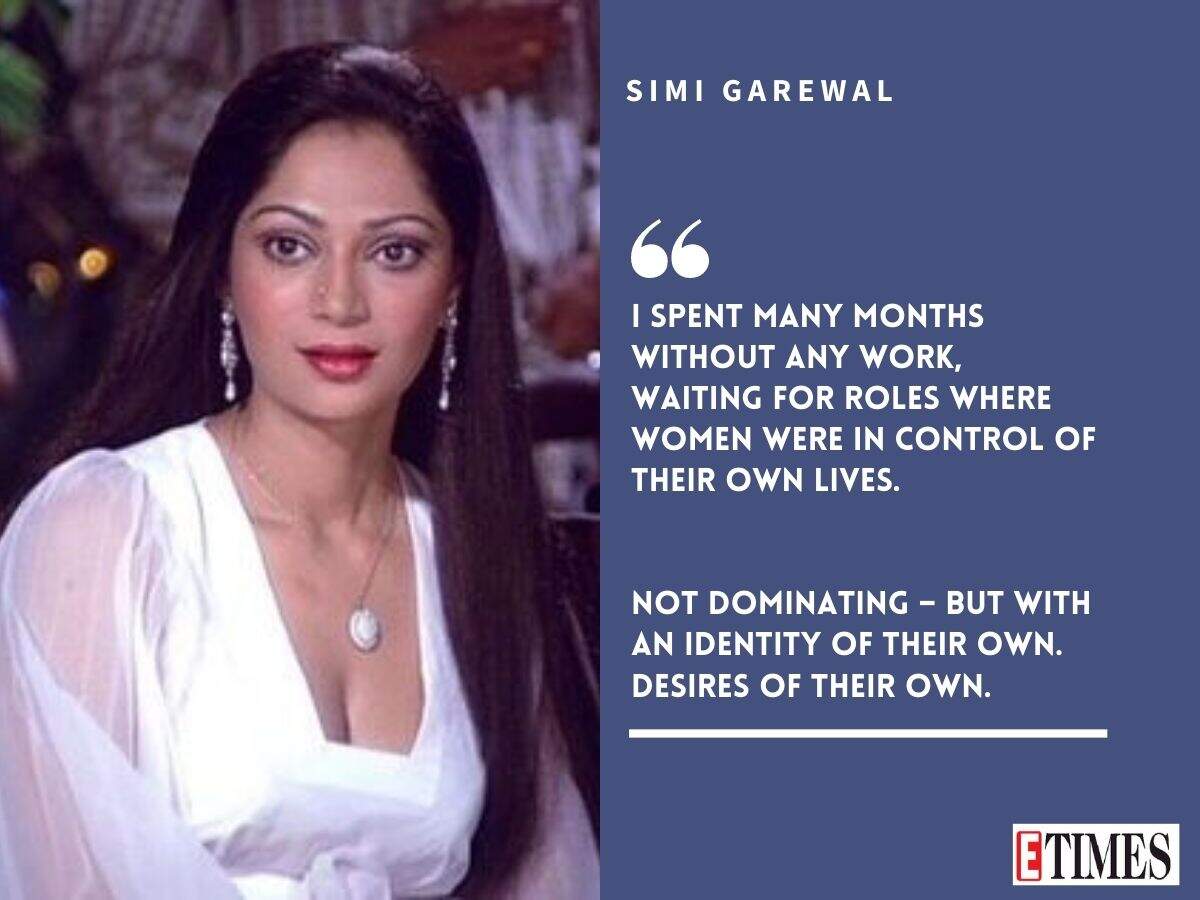 For someone talented as you; you have done few films…
I received tons of film offers, but I honestly couldn't bring myself to do those stereotyped roles. 'It's a sacrificing role', they would say – as if the sacrifice was the ultimate honour! The director would narrate the story to me. I kept asking. "But why must the poor girl suffer so much? She's weeping all the time. Why is she always crying?"

A director told me, with a knowing authority, "Every tear a woman sheds is money at the box office".

So, I did about 50 films, not very much. I spent many months without any work, waiting for roles where women were in control of their own lives. Not dominating – but with an identity of their own. Desires of their own.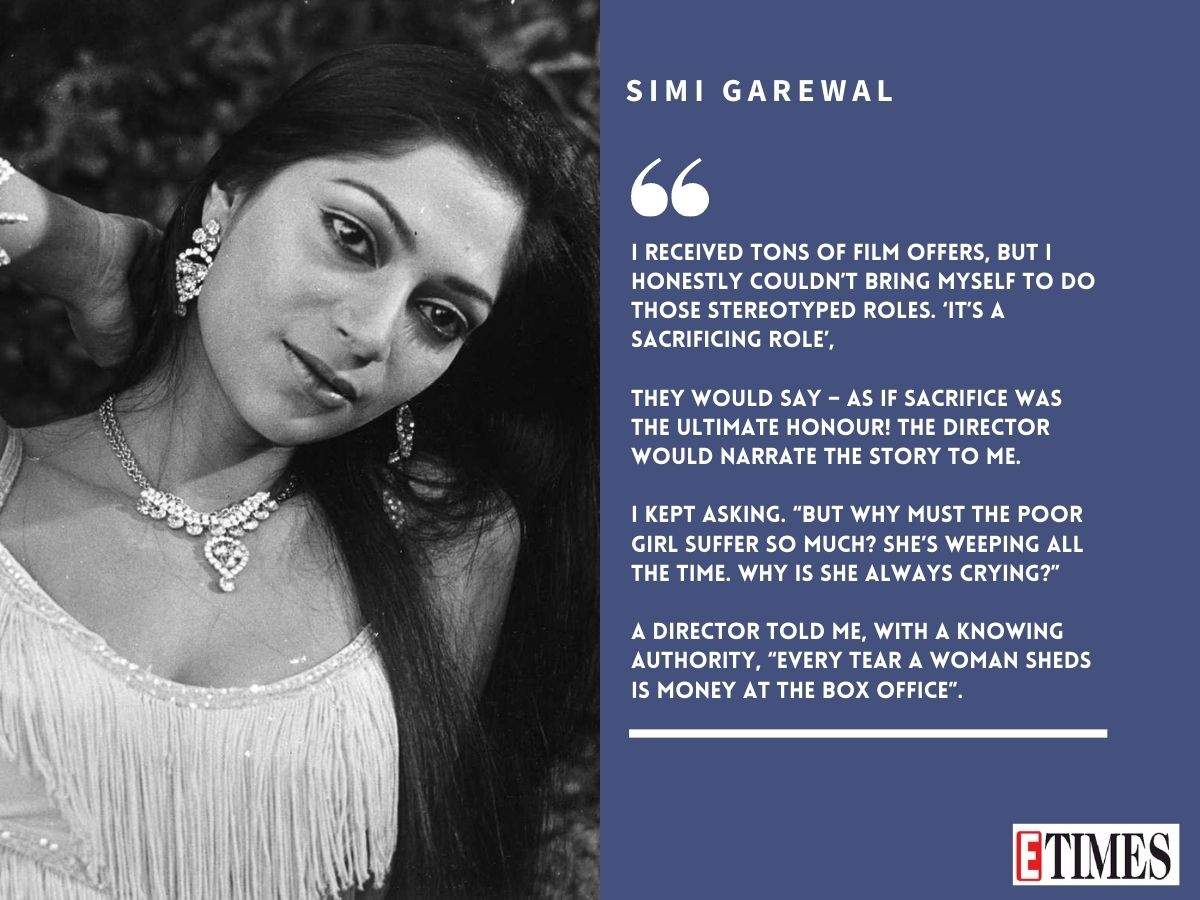 You have worked with filmmakers as diverse as Satyajit Ray, Raj Kapoor and Subhash Ghai.. not to forget actor-directors like Dev Anand and Manoj Kumar. The experience of working with them and your most memorable experience among them…
The MOST fantastic experience was to work with Raj Kapoor and Satyajit Ray simultaneously! They were both opposite ends of the spectrum! They had diametrically diverse methods of filmmaking. It was such a huge learning experience – and that is when I began getting drawn to direction myself. The systematic & organized approach of Ray – and the grand vision of Kapoor..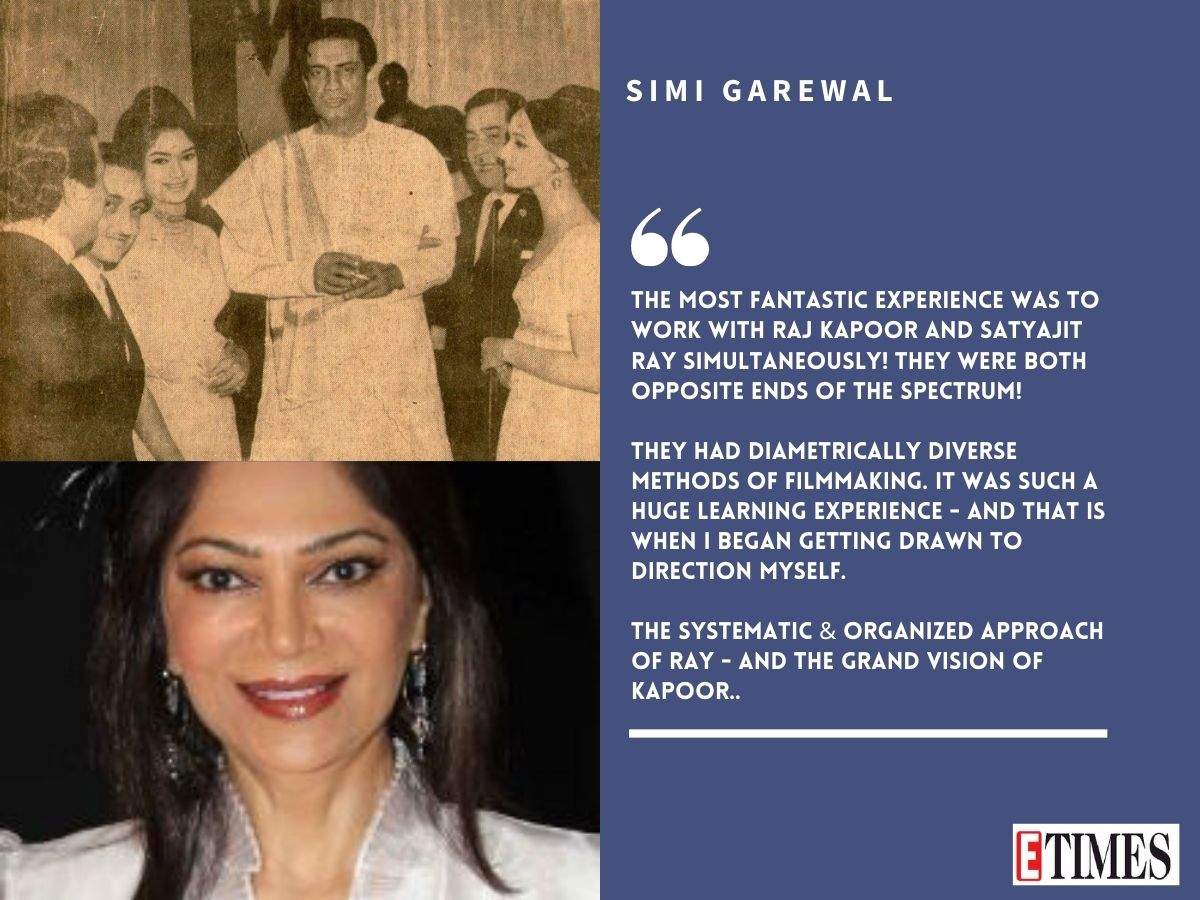 After Nargis, you are the only one to be known as 'The woman in white'. When did you decide to keep wearing your signature white outfits…
My preference for white actually started when I was 5 or 6. My best party dresses were always white! Even growing up – I always felt happiest when I wore white. It took some time for me to acquire the confidence, not to conform, but to wear the color of my choosing.