Is there something for India to worry about, or is it yet another case of 'mind games' that the Aussies are playing? At a virtual presser on Sunday, Australia's ace Test spinner Nathan Lyon, while speaking from the Adelaide Oval, venue of the first Test between India and Australia from Thursday, claimed that he had developed a 'mystery ball,' which he was yet to name.
"I'm always working on my bowling. I was working on it last night. I'm excited about bowling it in Adelaide. I haven't come up with a name for it yet, but I'm in the process with that. So, well see when we get to it. Hopefully, we'll have a name, just before the first Test, I reckon," said the 33-year-old.
Even without that mystery delivery, India must keep in mind that Lyon, arguably the No, 1 off-spinner in the world, seems to become even more dangerous with the pink ball under lights. So far in pink-ball Tests, Lyon has taken 28 wickets at 25.96, much lower than his career average of 31.58. Clearly, unlike a few other spinners, Lyon loves bowling with the pink ball.
"I enjoy bowling with any ball. I enjoy the atmosphere bowling in the day-night Test here in Adelaide. I think the wicket here in Adelaide is probably the best in the world. Damien (curator) has done a fantastic job," he said.
Rarely has a spinner enjoyed more success against India — 85 wickets, including seven five-wicket hauls in 18 Tests spread over a decade — with a best haul of eight for 50 at the Chinnaswamy Stadium in Bangalore on Day 1 of a Test, a spell that promoted a national daily to headline it: 'Nathan Chinnaswamy.'
What is the secret of his success against batsmen who have a reputation of playing spin well?
"I've always enjoyed playing against India. They're obviously some of the best players (batsmen) in the world, especially playing spin. So it's always a big challenge, and I want to challenge myself against the best players of spin bowling," he said, before deflecting the focus on him and terming the Aussie bowling attack as the "best in the world."

"For me, this series is doing my role in the Australian cricket team. We've got a very good bowling unit here. In my eyes, we've got the best bowling attack in the world. We're just going to have to make sure we're doing our stuff and challenging the Indians' defence for a long period of time. It's not about personal success. It's more about playing my role and making sure that we're going out there to take 20 wickets."
The question remains: Does he approach his bowling in a different way against India, knowing that they keep coming at him more than the batsmen from other teams?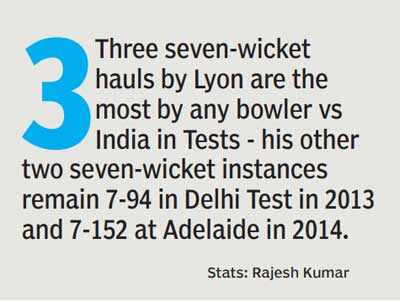 "I don't approach my bowling differently just because we're playing against India. I think, especially over the last five years, my bowling has gone to a new level. I'm fairly confident with where my bowling is at the moment. So, that's exciting. They're a very attacking side. They always want to attack spinners which is fantastic," he explained.
For now, he's mighty pleased that one of his "best mates", left-arm fast bowler Mitchell Starc, has returned to the Australian squad and will play in the first Test. Not only can Starc take the pressure off Lyon by landing a few early blows, coming from round the wicket, the pacer will also create footmarks on the pitch that can help the offie become more lethal.